I.V. Crane Essential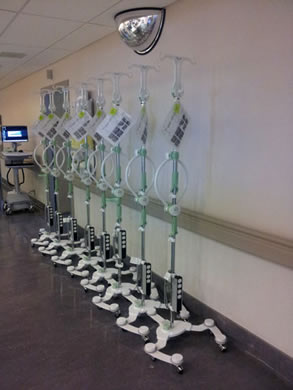 Revolutionnary I.V. Pole designed specifically with the safety of caregivers and patients in mind.
Innovative Patent Pending Features:
Height adjusting knob that's more ergonomic and easier to clean.

Slow decent mechanism to bring the top section down in a controlled manner.

Fold out pump supports to bear the weight of heavy awkward pumps while attaching securely.

A single click brake to prevent unwanted rolling while at bedside or while attaching equipment.

A base that's designed to keep its stability even with numerous pumps installed and shaped to minimize tripping points.

All this and still priced comparable to existing popular I.V. poles!
Overall
Height "
Overall
Width "
No of
Hooks
Wheels
Base
Weight lbs
Lbs
67 to 98
23 3/4
4
Steel frame, rubber tread
20
Base:
Feature 1: The base is designed to keeps its stability even with multiple pumps installed. This is accomplished by positioning the wheels around to where the pumps are installed. This keeps the center of gravity over the wheels.
Feature 2: The five circular steel disks over each wheel are stability pads and add additional weight to the base. They are positioned over each wheel to maximize their effect. By moving the weight away from the pivot points (tipping points), they are much more affective.
Feature 3: The shape of the base minimizes tripping hazards. The back and sides of the pole, where the patient will walk, only has one leg. This makes it much easier to transport. While using the pole as a walker, the patient can concentrate on walking without fear of tripping on the base.
Feature 4: The low height of the base allows it to fit under moste beds with ease.
Feature 5: The base has only three legs...this allows it to easily fit around or under furniture/beds.
| | | | | |
| --- | --- | --- | --- | --- |
| | | | | |
| 6 Hooks version also available. | Steering handle: Ideal for steering and can also aid a patient in walking. | Auxiliary Hook (optional): Height adjustable and easily removed for cleaning or replacing. Can be used anywhere on the pole. | Power Bar (optional): No dangling cords with its built-in quick wrap cord feature. | Low height base with its three legs. |
Top section raising and lowering
Step 1: Turn height adjustment knob clockwise until loose.

Note: To prevent injury to patient and caregiver, ensure that the top section of the pole is free of bags and pumps

Step 2: Grab the top section of the pole and slide up or down until desired height is achieved.

Step 3: Turn height adjustment knob counter clockwise until firmly tight.
Pump support (optional)
Step 1: Rotate pump support down all the way.

Step 2: Rest pump on pump support while attaching it to the pole.

Note: The pump support carries the weight of the pump, preventing the caregiver from bearing the weight while attaching it to the pole.
The Brake (optional)
| | |
| --- | --- |
| | |
| Step 1: Press down on the brake with your foot. The brake is now engaged | Step 2: To release, press down on the brake again. |