Chariots d'urgence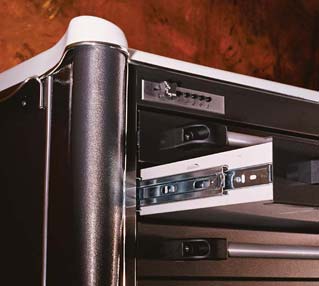 Pour télécharger le catalogue entier au format PDF,
cliquez ici
Our boldly stylish carts are designed for health care, not adapted to it! Style is surpassed only by performance and productivity. Attractive, innovative, and rock-solid, our carts are perfect for the needs of the modern health-care facility.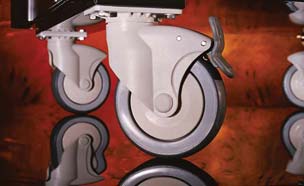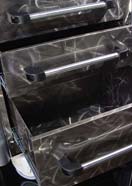 High-performance Tente® casters, easy-grip drawer handles, full-length corner bumpers, full-extension roller bearing slides, and much more.
Tall Standard
Nominal Size
Inches
33 W x 27 D x 45 H
Drawers
Nbr
Size
6
3", 3", 3", 6", 6", 9"
Colour
Shell/Drawer
red/red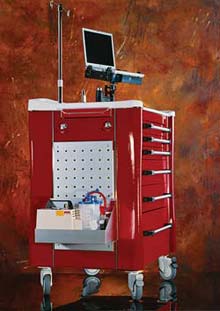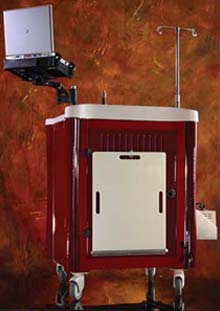 Accessories

Accessory Panels,
2 14" x 24"
#560001

Accessory Rail
System, 3
horizontal rails,
#560002

Cardiac Board &
Bracket, 18" x 24"
x 3/8", #560003

Coat Hook, 2,
#560005

Drawer Divider
System w/trays,
3" deluxe #560015,
3" standard #560016,
6" standard #560017

Glove Box Holder,
single-560019,
double #560018
not shown

IV Pole & Bracket,
extends from 10"
to 75", #560020

Magnet Clips,
3, #560022

Organizers, large
#560023, small
divided, #560024

Outlet Strip,
hospital grade,
#560025

Oxygen Tank Bracket,
internal, fits D & E
cylinders, #560026

Plastic Seals,
100, #560027

Push Button
Lock, #560028

Retractable
Extension Cord,
hospital grade,
#560029

Security Bags, 20,
3" drawer-560030,
6" drawer-560031

Sharps 5qt
Container, red
#560033, Lockable
5qt Bracket
#560032

Single Tier Shelf,
shown w/2
accessory rails,
#560052

Suction Shelf
16" W x 8" D,
tapered height
from 3" to 9",
#560050

Swivel Shelf, laptops,
monitors, defibs,
#560035

Tape Dispenser,
#560036

Tilt Bins set of 3
#560037, 4
#560038, 5
#560039, 6
#560040

Top, 33" w x 27"
D x 3-3/4" H,
#560041

Utility Hooks, 2,
#560042

Waste Receptacle,
internal medium,
#560045

Wire Baskets,
small #560049.
6 compartment
#560047
not shown, large
#560048,
3 compartment
#560046